I hate wasting things.  I don't mind splurging, but wasting is just not okay.  When I take the time and money to make a purchase and know that resources should be valued and that many people don't have nearly what I have, it's important to me to use that resource to the best of my ability.
I wear clothes and shoes until they can't be worn any longer, I have been making the most out of each roll of wrapping paper, and I turn the water off when brushing my teeth.
But it's food waste that really gets to me.  We waste a lot of food in this country.  If it's not pretty enough, the right shape, or before the typically useless best by date, we're done with it.  And that's not cool.
It's also not cool to waste ingredients.  Like when I had most of a box of pumpkin (yes, I use boxed organic pumpkin puree) left after making Pumpkin Sugar Cookies.  I didn't really want to bake anything else, but I could not throw away that high quality pumpkin.
So I sat down and thought about what I could make.  The other thing about trying not to waste food is that it forces you out of recipe ruts and your food comfort zone, which is awesome because so often new recipes turn out to be the best.
I realized a creamy, almost Alfredo style pasta would be the perfect vehicle for the pumpkin and create an easy to make, super comforting yet elegant dinner that is so perfect for just about any holiday occasion.  Plus it only dirties one dish.
Let's talk about Creamy Pumpkin Pasta.  With only a few ingredients this meal can be a quick dinner after a busy day shopping, wrapping, or traveling, but it can also be a dinner party meal that makes your guests swoon.
Whenever you make this Creamy Pumpkin Pasta, be sure to try it.  And have a wonderful Christmas.  I can't wait to celebrate with my family and I hope you enjoy time with yours.
Print
Creamy Pumpkin Pasta #SundaySupper
---
Total Time:

25 minutes

Yield:

4

servings

1

x
2 tablespoons

olive oil

1

large onion, finely diced

3

cloves of garlic, minced

1 teaspoon

turmeric

1 teaspoon

black pepper

½ teaspoon

kosher salt

1 ½ cups

pure pumpkin puree

4 cups

low sodium vegetable or chicken stock

8 ounces

spaghetti, or other pasta of your choice

6 ounces

cream cheese
---
Instructions
Heat a large pot over medium high heat. Once hot, add the oil, followed by the onion, garlic, turmeric, pepper, and salt. Sauté about 5 minutes, stirring frequently, until slightly caramelized. Add the pumpkin puree and cook about 2 minutes more.
Stir in the stock and bring to a boil. Add the pasta and cook about 9 minutes, or until the pasta is al dente. Remove from the heat and stir in the cream cheese. It will take a few minutes to fully incorporate, but once it does, the sauce will be luscious and creamy. Serve immediately.
Prep Time:

5 minutes

Cook Time:

20 minutes
Don't forget to check out the other Sunday Supper dishes!  Thanks to Em for managing this week's event!
Sunday Supper New Year's Eve Menu Ideas
END OF THE YEAR APPETIZERS & MAINS
HAPPY NEW YEAR HORS D'OEUVRES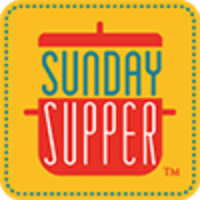 The Sunday Supper Movement is committed to bringing our readers delicious recipes that encourage them to gather and eat together around the family table. Search for your favorite ingredients on our Sunday Supper website. Also check out the Sunday Supper Pinterest boards for plenty more ideas and inspiration.