This shop has been compensated by Collective Bias, Inc. and its advertiser. All opinions are mine alone. #SnackItandPackIt #SeasonalSolutions #CollectiveBias
Halloween is alarmingly close.  It is in fact just over a week away.  I know it's what we all say all the time, but where have the last few months gone?  How is it possible it's almost Halloween?
If you are anything like me, you have been enjoying the unseasonably warm weather, pretending like it's still summer, and are totally and completely unprepared for the spooky fun of October 31st.  But let's change that.  In fact, to get started you can hover over the image below to start shopping at Kroger because they have limited time special pricing on Pringles Snack Stacks and Keebler Cookie and Cheez-It Variety Packs.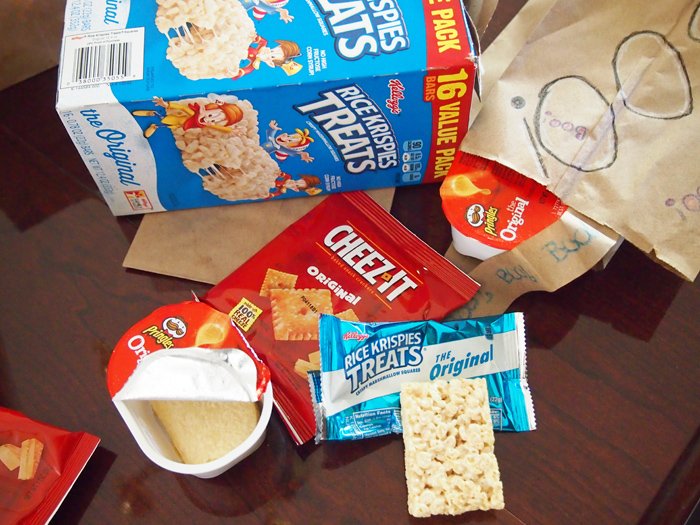 I shopped at Kroger because it is right down the street from me, but you can shop at any Kroger banner store.  This digital coupon will help you save on Kellogg's products at Kroger stores.
I stocked up on Kellogg's® Rice Krispies Treats® Original, Pringles® Original, and the Cheez-It® Variety Pack because they are not only awesome snacks to have on hand, but they are also great to hand out to trick or treaters.
They are a nice alternative to candy so kids can have some variety in their bag.  I certainly would have been super excited to receive Rice Krispies Treats, Pringles, or Cheez-It crackers.
These foods are super nostalgic for me as well.  Rice Krispies Treats have been a part of memories for kids and parents alike for years.  And having a single serving of Pringles is so perfect.  Then we don't have to share 😉  There is just enough, just for you.
If you have kids, they are going to need a place to store their Halloween haul, and DIY Trick or Treat Bags are a fun, easy craft project that I promise anyone can do, since I don't have a crafty bone in my body.
All you need are plain paper bags, crayons, colored pencils, or markers, tape, and scissors.  That's it.  Depending on the size of bag you use, they may be too small to hold an entire night of treats, but kids can make multiple bags.  These would be so cute for use in the classroom as well, and just the right size to sit on a desk.
Once you draw a design on the bag, you can cut strips of construction paper or paper bags and attach them to the inside of the bag with tape.  More than one piece might be necessary so it is sturdy.  Feel free to draw designs on the handles as well!  And that's it.  The bag is ready to go!  Everyone will love the bags and they are a super reasonably priced, stress free activity for the family to do together.
I had a blast decorating my bags, so I know kids will as well.  It is a great way to encourage kids to use their imagination and create the design that says Halloween to them.  For more Kellogg inspiration check out the social hub.
Happy Halloween!