When I was younger I used to love to play games.  Video games, card games, board games, all kinds of games.
When Granny came to visit she loved playing all kinds of card games.  She could even sit and play solitaire for hours by herself when I was at school and Mom was at work.  She could also read a book in a day, which still amazes me.
We were also friends with another family from my school.  though they had a boy, we somehow got along after I became friends with the mom when she helped out at lunch.  They introduced us to all kinds of board games like 13 Dead End Lane that I was hooked on immediately.  We also played more than our fair share of Uno.
In fact, you know how sometimes you eat a certain food way too much and then can't eat it at all after awhile?  That's Uno for me.  The idea of playing it again makes me twitch.  We played it with those friends, with family, just the three of us.  We played so much Uno.  So.  Much.  Uno.
Dad and I bonded over video games.  Mostly racing games and rather violent war games that I, as an eight or nine year old girl, not only probably should not have been playing, but was also pretty much a unicorn in the video game world.
I loved loved loved playing those video games.  They were a common bond between Dad and me, they forced me to think in ways other activities didn't, and they were stress relief before I even knew I needed stress relief.
Now we always say we should play more games, but honestly I spend more time thinking about playing and talking about playing than I actually play.  There are so many other things to do and games never seem to make the cut.
I don't think I'm alone in this, and it's sad.  There's always an email to answer, writing to edit, a recipe to make, an errand to run.  By the time those activities are done, I'm tired and would rather sit down with a book or movie than get out a game, re-read the directions, and play.  It's my goal to change that this holiday season.  It's time to be a kid again, if only for a short time.
Do you still play board games?  What's your favorite?
I'm also obsessed with fennel and orange this holiday season, so I made a Fennel and Orange Salad that has to be on your list to make.  It's easy, gluten free, packed with flavor and nutrition, and it pairs so well with a variety of proteins.  I love it with this glorious wild salmon that just came from Pike's Place Fish (hi guys!), but it would be amazing with pork, chicken, or even ham where the acidity would seriously cut through the salt.
Print
Orange Fennel Salad #SundaySupper
---
Total Time:

10 minutes

Yield:

4

servings

1

x
1

bulb fennel, cored and sliced thin

1

white onion, sliced into think half moons

3

navel oranges, segmented

1 cup

Brussels sprouts, sliced thin
Juice of

1

lemon

¼ cup

olive oil

¼ teaspoon

kosher salt

½ teaspoon

freshly ground black pepper
---
Instructions
In a medium bowl, stir together the fennel, onion, orange segments, and brussels sprouts. Sprinkle with salt and pepper, and toss to combine. Finish with lemon juice and olive oil, and serve immediately with the protein of your choice.
Don't forget to check out the other Sunday Supper recipes!  Thanks to our campaign manager Em!
Holiday Salad Recipes #SundaySupper
FESTIVE HOLIDAY SALAD RECIPES
BOUNTIFUL HOLIDAY SALAD RECIPES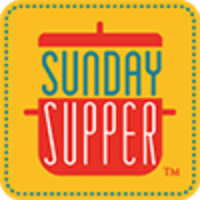 The Sunday Supper Movement is committed to bringing our readers delicious recipes that encourage them to gather and eat together around the family table. Search for your favorite ingredients on our Sunday Supper website. Also check out the Sunday Supper Pinterest boards for plenty more ideas and inspiration.